ALPINE CANADA – St-Isidore, Ontario, ski racer Valérie Grenier raced to the top of the podium, winning the gold medal in today's (Saturday, January 7) FIS Alpine Skiing Women's World Cup Giant Slalom at Kranjska Gora, Slovenia.
In her 90th World Cup start, this is Grenier's first podium and comes in a race where she led after the first run and also posted the fastest time in the second run.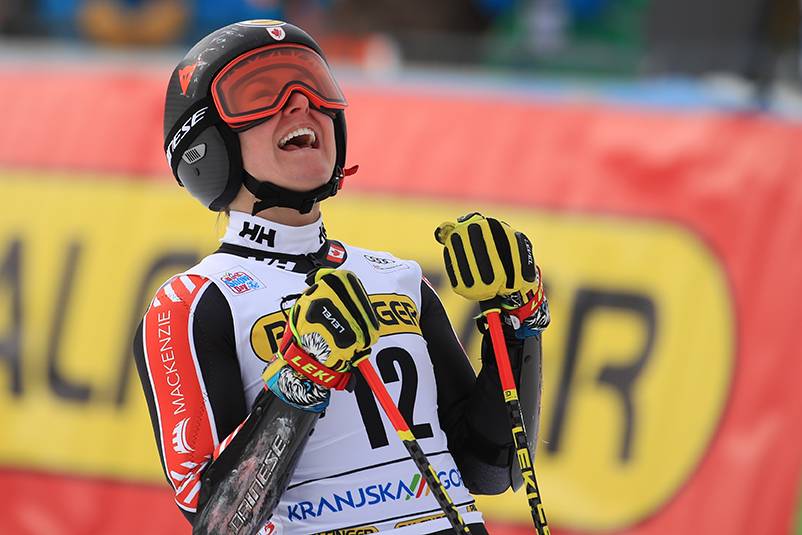 "It feels amazing! I've wanted this day for so long, it's a dream come true," said a beaming Grenier. "I'm proud that I was able to keep it together for the second run and to find a way to win after winning the first run."
"I thought that there would be a lot of pressure, but I felt really calm and confident. I'm so happy to have our team here. It was so fun to see them at the finish and to celebrate with them."
"I am so proud of Val," said Karin Harjo, Head Coach of Canada's Women Alpine Ski Team. "It's an incredible accomplishment that is so well earned for all the hard work that she has put in through her career."
"For the team this shows the strong dynamic we have, the girls push each other, and they really support each other. Together we work hard, we play hard, we have joy and good things are happening."
The other Canadians racing on a warm, cloud covered day in Kranjska were Cassidy Gray (Invermere, BC), Sarah Bennett (Stoneham, QC) and Britt Richardson (Canmore, AB) with none advancing to the second run.
This is Canada's first women's World Cup podium in giant slalom since 2006 and first World Cup GS win since Kathy Kreiner stood on top of the podium for Canada in 1974.